Honeydew and Fennel Salad with Basil
Ingredients:
1½ cups basil leaves, torn if large
¼ cup raw pistachios
1 fennel bulb
6 tablespoons olive oil
¼ 3-pound honeydew, rind and seeds removed, sliced ¼ inch thick
½ lemon
2 tablespoons white wine vinegar
Kosher salt
1 teaspoon Maras red pepper flakes or ½ teaspoon crushed red pepper flakes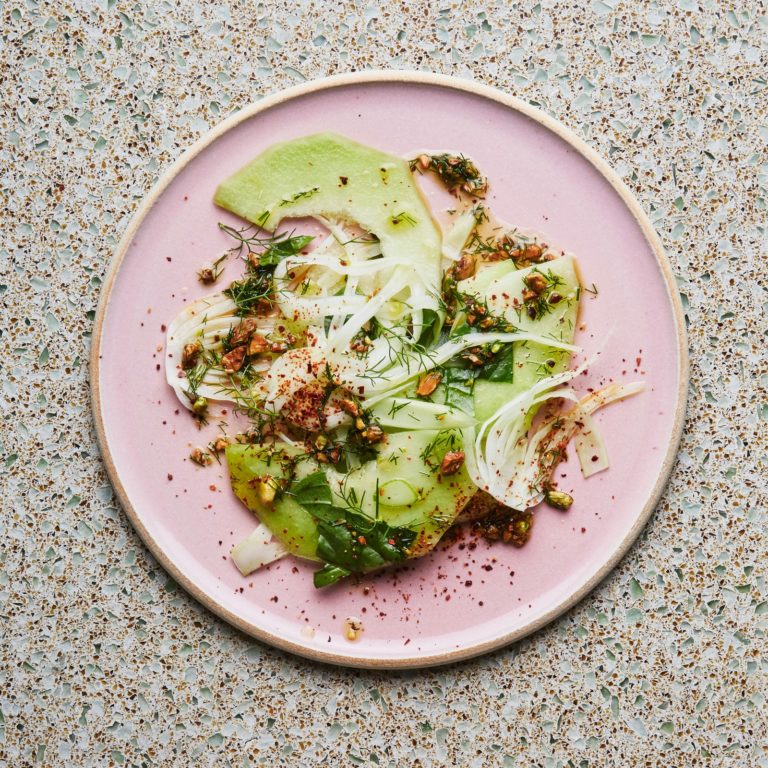 Preparation
Step 1
Preheat oven to 350°. Toast pistachios on a rimmed baking sheet, tossing once, until golden brown, 6–8 minutes; let cool. Transfer to a mortar and pestle and pound until mostly finely ground but with a few coarse pieces left. (You can also put them in a zip-top bag and use a flat-bottomed mug or rolling pin to break them up.) Transfer to a small bowl.
Step 2
Remove stalks from fennel bulb, then remove fronds from stalks. Finely chop fronds until you have a small handful (about ⅓ cup), transfer to bowl with nuts, and stir in oil. Season pistachio oil with salt. Cut fennel bulb in half lengthwise. Using a mandoline, shave fennel crosswise. Shave fennel stalks crosswise.
Step 3
Place melon and shaved fennel in a large bowl and finely grate zest from lemon over, then squeeze juice into bowl. Drizzle with vinegar and season with salt; toss salad to combine. Add basil and gently toss again just to distribute basil.
Step 4
Arrange half of salad on a platter; drizzle with some reserved pistachio oil. Top with remaining salad and drizzle with more pistachio oil. Sprinkle with Maras pepper.
Courtesy of bonappetit: https://www.bonappetit.com/recipe/honeydew-and-fennel-salad-with-basil