Bright & Spicy Shrimp Noodle Salad
Ingredients:

1 cup basil leaves
⅓ cup fresh lime juice
2 tsp. honey
1 serrano chile, very thinly sliced
(1) 1″ piece ginger, peeled, finely grated
1 garlic clove, finely grated
1 Tbsp. plus 1½ tsp. fish sauce
4 Tbsp. extra-virgin olive oil, divided
Kosher salt

1 lb. large shrimp (preferably wild), peeled, deveined
6 oz. bean thread (cellophane or glass) noodles
1 English hothouse cucumber, halved lengthwise, thinly sliced crosswise
½ cup salted, roasted peanuts, crushed, divided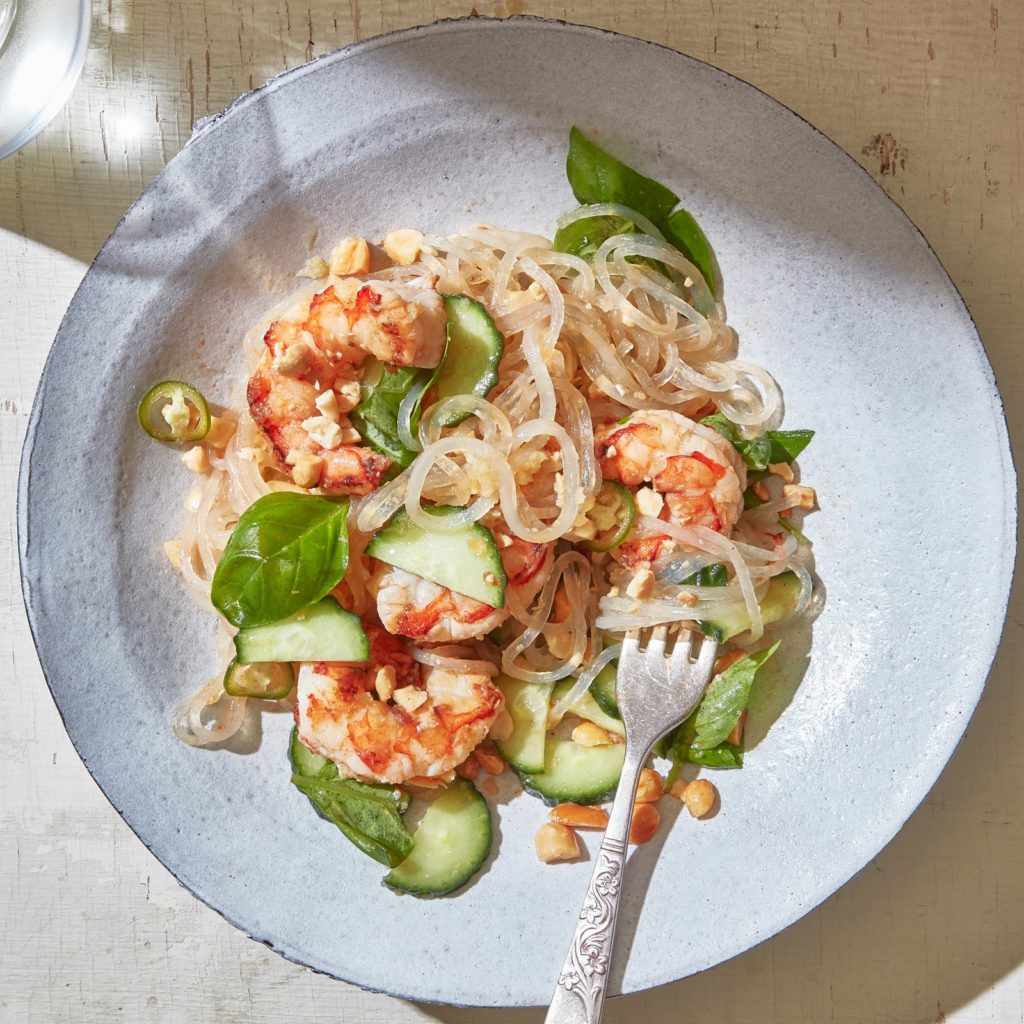 Step 1: Stir lime juice and honey in a small bowl until honey dissolves. Mix in chile, ginger, garlic, fish sauce, and 3 Tbsp. oil; season dressing with salt.
Step 2: Toss shrimp and 2 Tbsp. dressing in a medium bowl to coat; let sit 10 minutes.
Step 3: Meanwhile, cook noodles according to package directions. Drain and add to bowl with remaining dressing along with cucumber and ¼ cup peanuts; toss well.
Step 4: Heat remaining 1 Tbsp. oil in a large nonstick skillet over medium-high. Pour off any liquid from shrimp and pat dry; season all over with salt. Cook shrimp, tossing occasionally, until browned and bright pink, about 5 minutes. Transfer to bowl with noodles, add basil, and toss well to combine.
Step 5: Divide noodle salad among bowls and top with remaining peanuts.