Pasta Romesco Salad with Basil
Ingredients:

1 cup basil leaves, torn if large
1 cup raw walnuts
3 oz. country-style bread, crust removed, cut into 1″ pieces (about 1½ cups)
4 whole roasted red peppers from a jar
Zest and juice of 1 lemon
2 garlic cloves
1 tsp. crushed red pepper flakes, divided
½ cup plus 2 Tbsp. extra-virgin olive oil
Kosher salt
1 lb. fusilli giganti (large spiral-shaped pasta), fusilli, or medium shell pasta
1 lb. mixed ripe tomatoes, cut into bite-size pieces (about 3 cups)
4 oz. Parmesan, finely chopped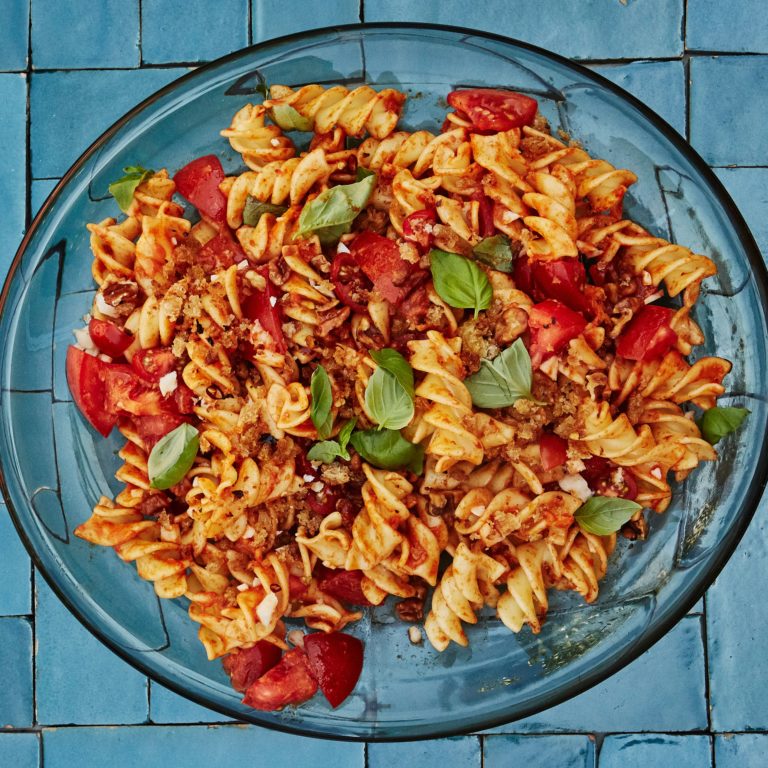 Preparation
Step 1 Preheat oven to 350°. Toast walnuts on a rimmed baking sheet, tossing halfway through, until golden brown, 10–12 minutes. Let cool.
Step 2 Meanwhile, process bread in long pulses in a food processor until coarse crumbs form (you should have about 1 cup). Transfer to a small bowl.
Step 3 Purée roasted red peppers, lemon juice, garlic, ½ tsp. red pepper flakes, and about one-quarter of the cooled walnuts in food processor (no need to clean) until smooth. With the motor running, very gradually stream in ½ cup oil. Process until thick; season romesco dressing generously with salt.
Step 4 Cook pasta in a large pot of boiling salted water, stirring occasionally, until al dente. Drain and rinse under cold water (this stops cooking and removes surface starch so the pasta will be less gummy). Shake off excess water and transfer to a large bowl. Toss pasta with half of the romesco to coat; set aside. Finely chop remaining walnuts; set aside.
Step 5 Heat remaining 2 Tbsp. oil in a medium saucepan over medium and cook breadcrumbs, lemon zest, and remaining ½ tsp. red pepper flakes, stirring often, until breadcrumbs are golden, 5–7 minutes. Remove from heat.
Step 6 Toss reserved pasta with remaining dressing, then fold in tomatoes, Parmesan, and reserved walnuts just to distribute. Sprinkle breadcrumb mixture over pasta and top with basil.
Courtesy of CLAIRE SAFFITZ / bonappetit: https://www.bonappetit.com/recipe/romesco-pasta-salad-with-basil-and-parmesan