Ingredients:
1 cup pea shoots
2 Tablespoons minced fresh ginger
1 Tablespoon sugar
6 Tablespoons lime juice
1 Tablespoon minced garlic
1/4 cup water
1 cup diced Roma tomatoes
1 cup thinly sliced cucumber
1 cup diced red onion
1 cup diced mango
1 cup diced avocado
1 cup fresh crab meat
*Note: you will need a circular mold.
Fast daytime lunch, great Sunday Brunch with no need for heat!
Step 1: Place a layer of pea shoots in the mold and then top with a layer of firmly packed tomatoes.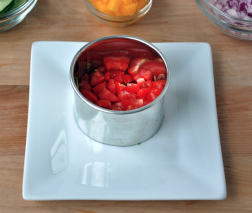 Step 2: Place a layer of sliced cucumbers atop the tomatoes, fanning them out to fill the circular mold.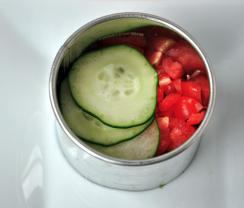 Step 3: Layer the diced mango atop the cucumbers, then add the red onions.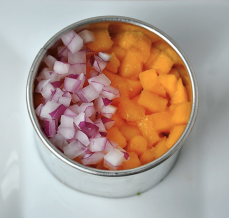 Step 4: Add a layer of avocado, pushing it firmly into the mold.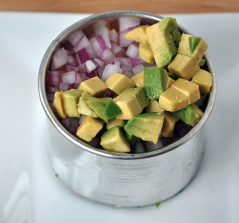 Step 5: Add a layer of crab, then while pushing down on the crab with one hand, slowly slide the mold upward to reveal the layered La Jolla Crab Stack. Drizzle with ginger-lime dressing and serve